Some people are surprised to hear that we illuminate our entire pool area using nothing but solar LED landscape lights. As in: the sun provides free evening ambiance with zero effort on our part. Nothing has to be plugged in. Our electric bill feels zero impact from softly illuminating this entire area of our house. So today I wanted to share the 3 solar products we use in case you want to give your own outdoor space a literal glow-up.
Technically we have a porch light and in-pool lights too, all of which use traditional electricity, but we almost never turn them on. Honestly, they're a little blinding and we like a soft glow that doesn't block out our view of the stars. Instead, day-to-day (or night-to-night?) we just rely on our solar-powered LED lighting for that oh so charming come-hither glow.
I used to think solar-powered landscape lighting was a lackluster substitute for traditional, wired landscape lights (which, btw, we found very easy to install ourselves at our last house). But now we're huge fans of solar lights, and I'll tell you why.
Why We Love Using Solar Lights
One common reason for using solar lights is to avoid the wiring necessary for plug-in or electric-powered lights. And honestly, that's one of the reasons we initially used them here – almost as a placeholder until we had time to install a more permanent lighting plan.
But since adding them, we've discovered there are TONS of pros to relying on solar lighting in your yard:
Easy to install: No wiring necessary! Just find a sunny spot for your solar panel.
Placement Flexibility: You're not constrained by wires or proximity to a plug, put 'em anywhere!
Affordable: They're not very expensive to buy and they'll never add to your electric bill.
Set & Forget: They're dust-to-dawn, so there are no switches or timers to worry about.
Eco-Friendly: Renewable resources FTW!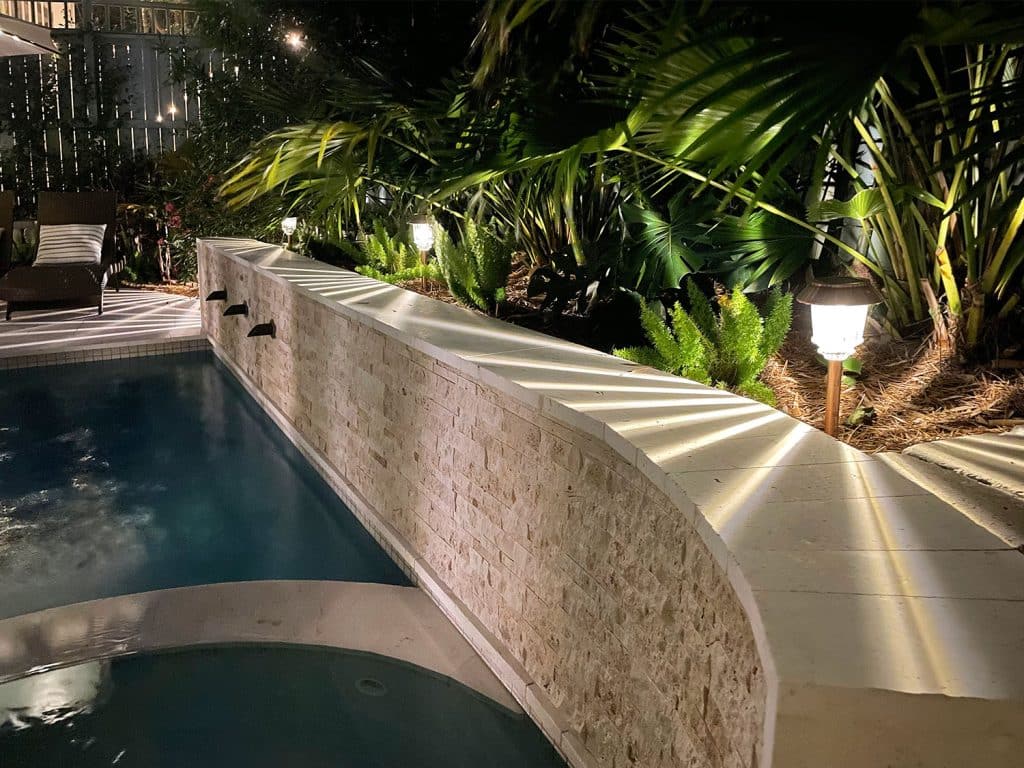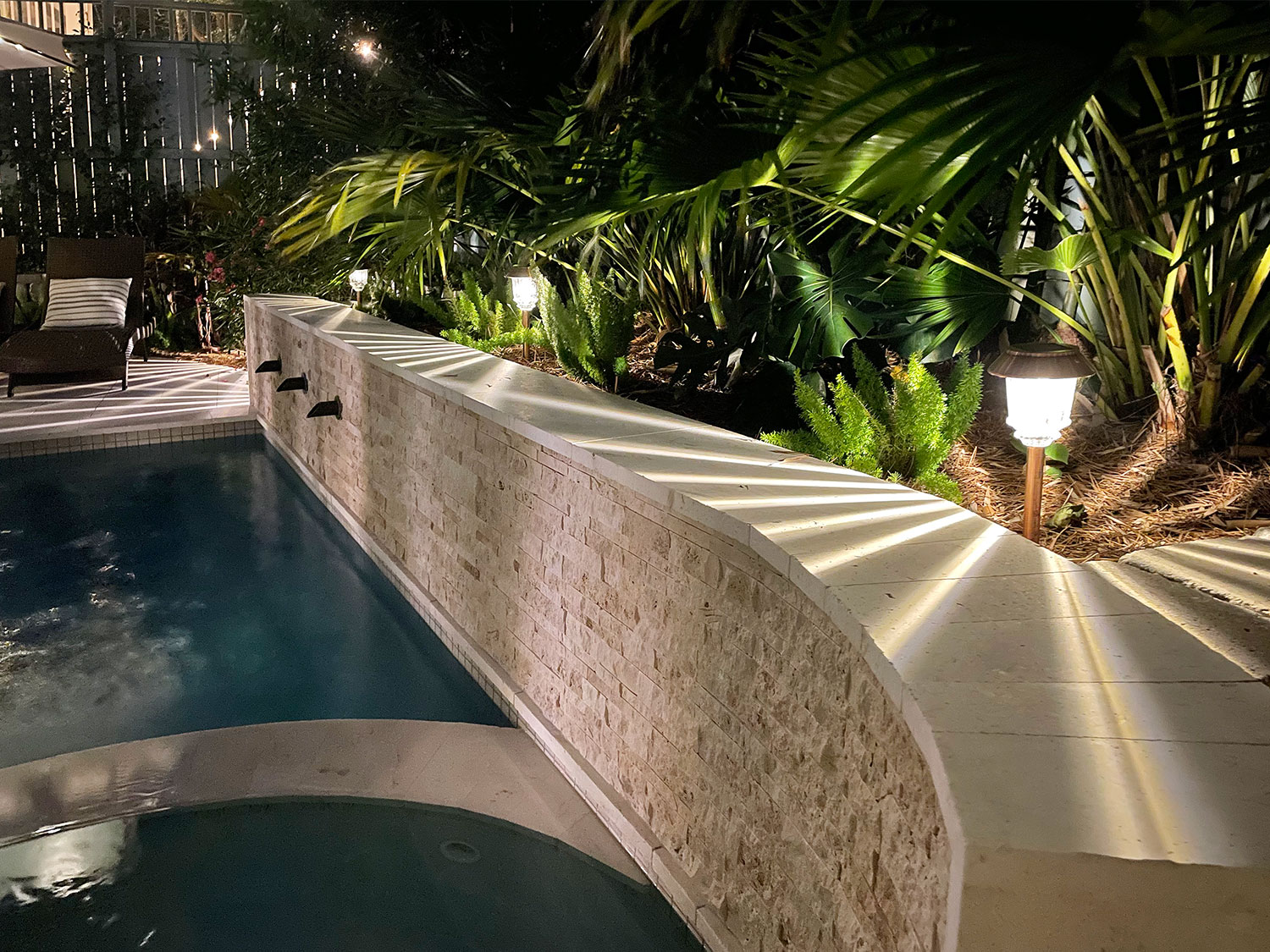 I even filmed this short little time-lapse video to show you how our pool area automatically transitions from day-to-night, without us having to do a darn thing!
Note: You can also view this video on YouTube.
Now, of course, the main drawback to solar lights is that they rely on sunshine, so they don't glow as long on cloudy days – but generally they have surprised us by shining longer than we'd think they should on especially gloomy days (they might come on at dusk and shine until 11 or 12 instead of 3 or 4 like they do on a normal sunny day. Very occasionally if we've had a string of gloomy days they might only glow a tiny bit or not at all, but in those cases we always have that porch light and our in-pool light if we really need them.
Typically whenever we have friends over after dark, we hang around our firepit area or upper deck anyways, both of which are illuminated by plug-in LED outdoor string lights. So that pool ambiance you see in the video is mostly enjoyed by mom & dad in the hot tub, where it easily provides enough light to make sure nobody misses a step getting in, but not like a search-light level blast of light like a UFO is above us trying to beam us up.
The 3 Outdoor Solar LED Lights We Use
I'll talk about each of these in a bit more detail, but for a quick rundown, here they are:
Solar Pathway Lights (4 pack is currently $50 – so $12.50 each)
Solar-Powered String Fairy Lights (2 pack is currently $15 – so $7.50 each)
Solar Patio Umbrella Lights (Single pack is currently $24)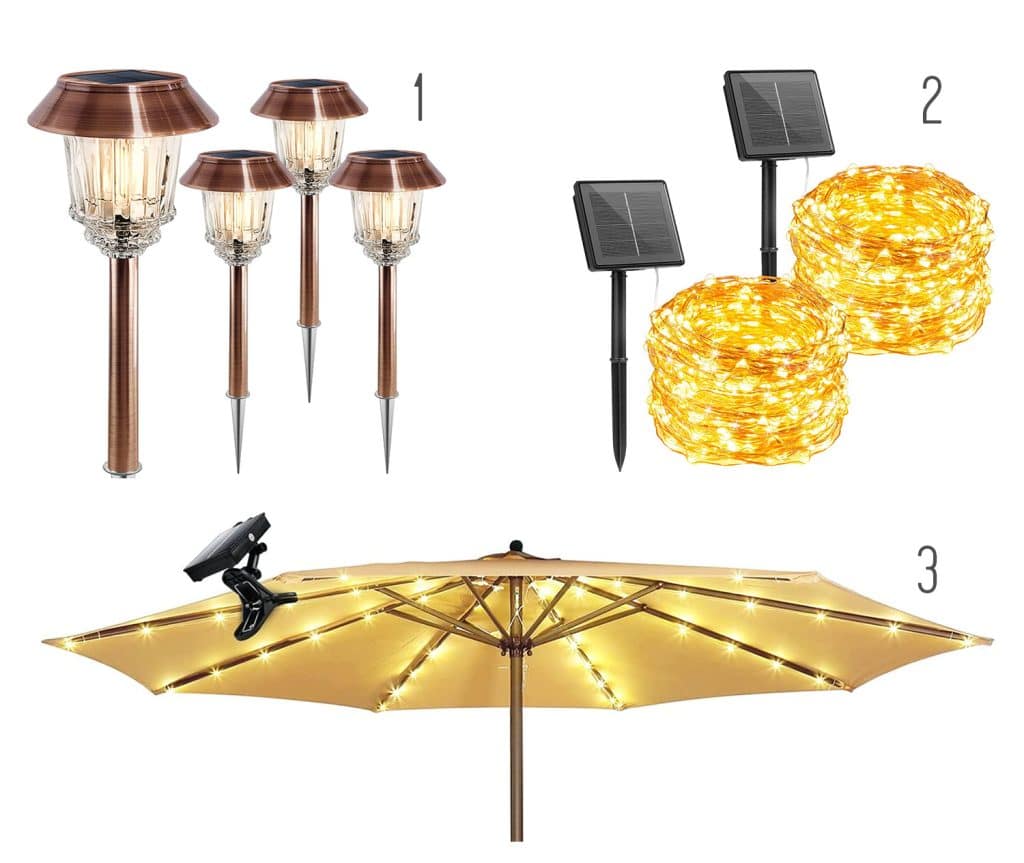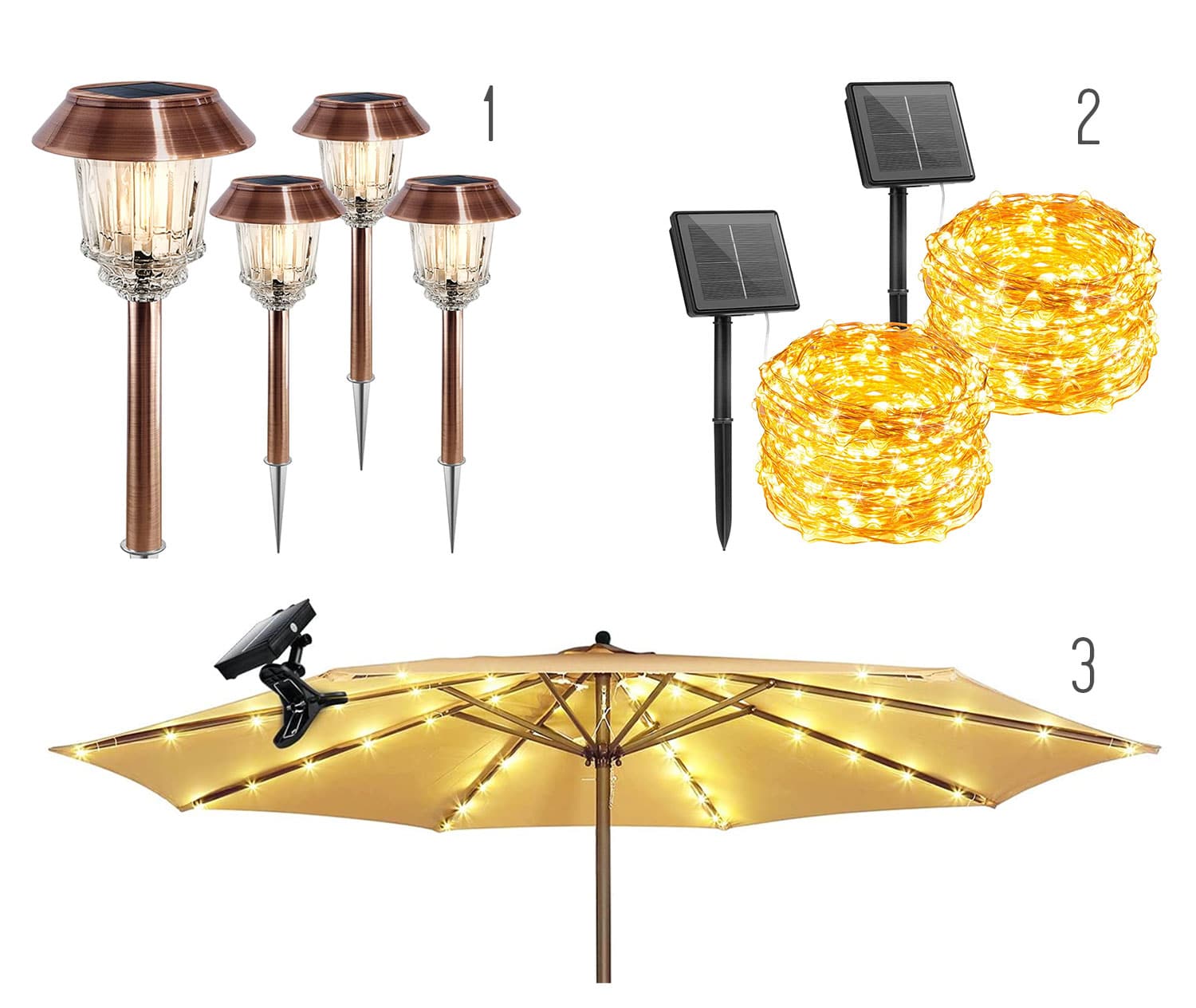 They all include the necessary solar panels, so you don't need to buy any extra equipment. Everything is ready to go right out of the box. They are also all WARM WHITE, which helps them put off a pleasing glow, not a harsh fluorescent-colored light or anything too weirdly blue.
Solar-Powered Pathway Lights
Sherry has mentioned these solar pathway lights a ton on Instagram and I feel like they're already building up quite a voracious following – and for good reason! So many of you have sent photos of them in your yards, and from seeing them in snow or other tropical places or just lining a front walkway in the suburbs or the city, they always look great. They're attractive during the daytime and SO easy to install (just turn the switch in the cap on, stake them into the ground, and you're done). The solar panel is built right onto the top of the light, and those starburst reflections shine down on the ground around them when they glow.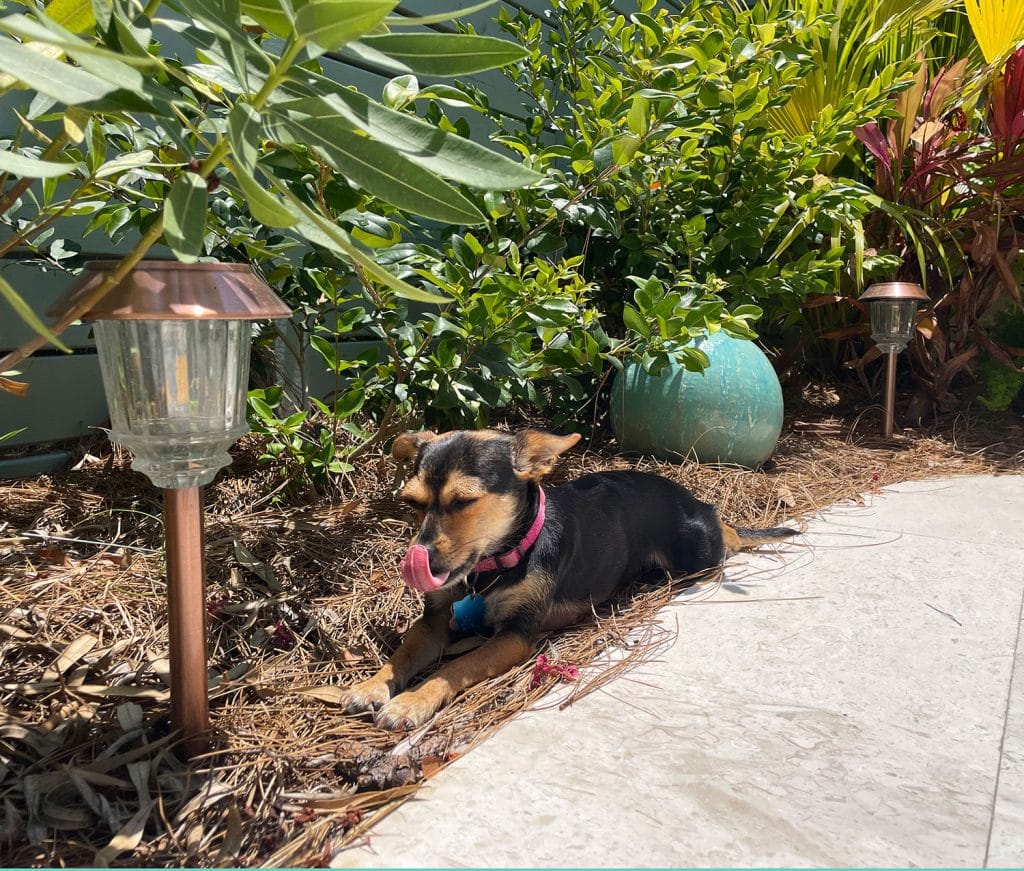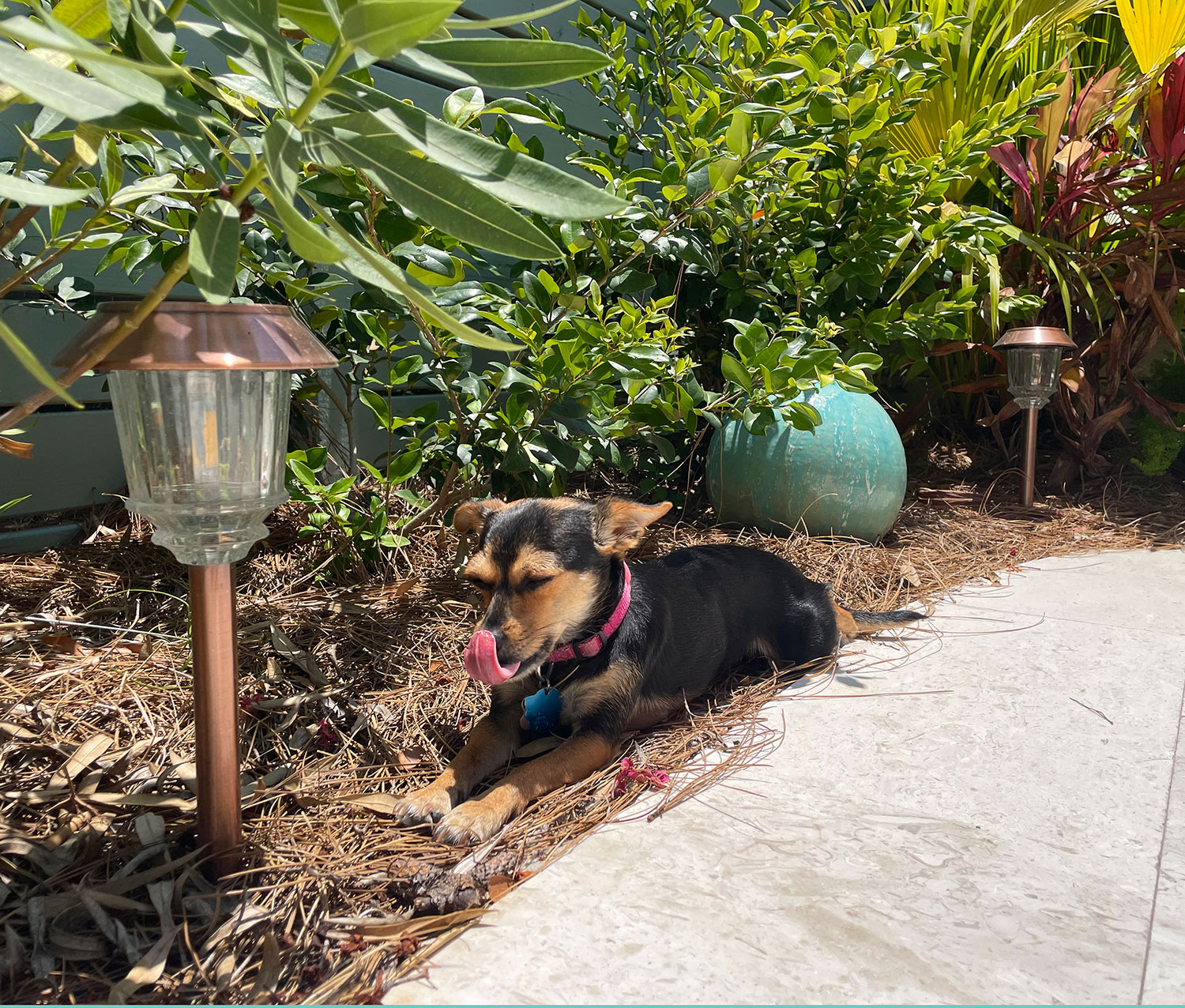 At dusk they automatically come on, casting a surprising amount of light that creates this cool pattern on the ground. Almost like rays of the sunshine beaming out onto your patio, path, driveway, or wherever. We've actually got them on all sides of our house – probably about 16 in total! We get asked if they work in the snow and colder climates and have definitely heard from people who have them and love them there – our only advice is don't put them somewhere that gets zero sun – because, duh, they're solar. So like under an awning that's always shaded won't work nearly as well as out in a garden, along a path leading to the door, etc.
I haven't created an Excel spreadsheet to see how long they last every night to provide you with the mean, median, and mode (doesn't that sound like something I'd do?) but the important part is that most of them are still on by the time we go to bed – so they're functional for the time we need them to be functional. And I say "most" just because one or two of ours behind our pool wall don't get as much sun thanks to the plants overhead, so they might fade a little faster.
Thankfully they collectively cast more than enough soft light for us to get around out there and soak up that ambient glow until around 11 or 12, we're usually inside & sound asleep by then. There are definitely nights when Sherry's randomly up at 3 or 4am for a glass of water or whatever and says she still sees them glowing softly out there after a sunny day.
Note: when you get them, turn them on under the cap. They have two brightness settings there as well, so you can experiment to see which one you like best. We have ours on the brightest setting and it's still very soft and not harsh or in-your-face at all.
Solar-Powered Fairy Lights
Last summer we decided to give these solar fairy lights a try and I'm so glad we did. We didn't really have a plan for them at first, but quickly decided to run them under the eave of our house and along our fence.
They too are easy to install. It just tacked in some small nails along the fence and wound the copper wire tightly around each nail. And instead of staking the solar panel into the ground, it literally just sits on top of the fence collecting all that beautiful free electricity from Mr. Sun. Can't even see it from the ground (I'm standing up on a ladder for this shot).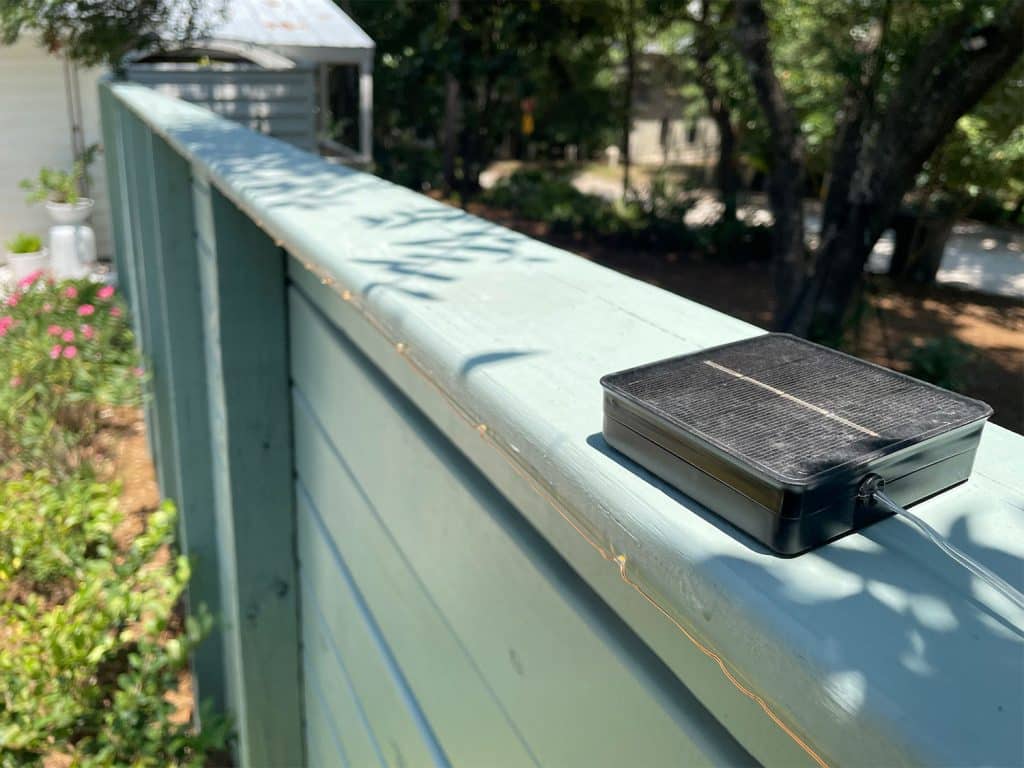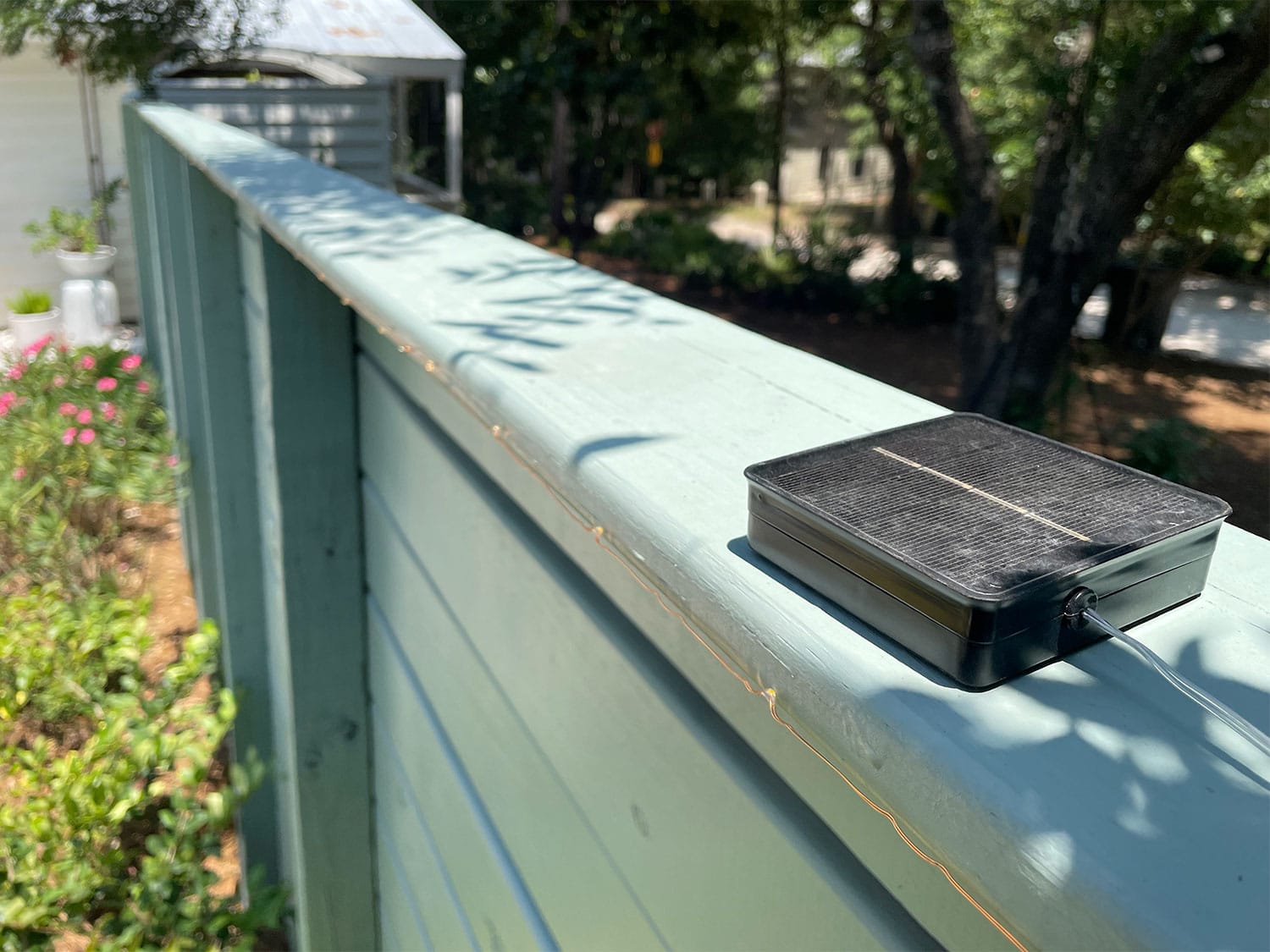 One strand is 33 feet long, which worked out perfectly for us. We have two, and each strand starts on either side of the gate (which is how we were able to make sure the gate still swings open freely). So the one on the right side of the gate opening runs along the fence, while the one on the left of the gate opening runs the other direction across the house.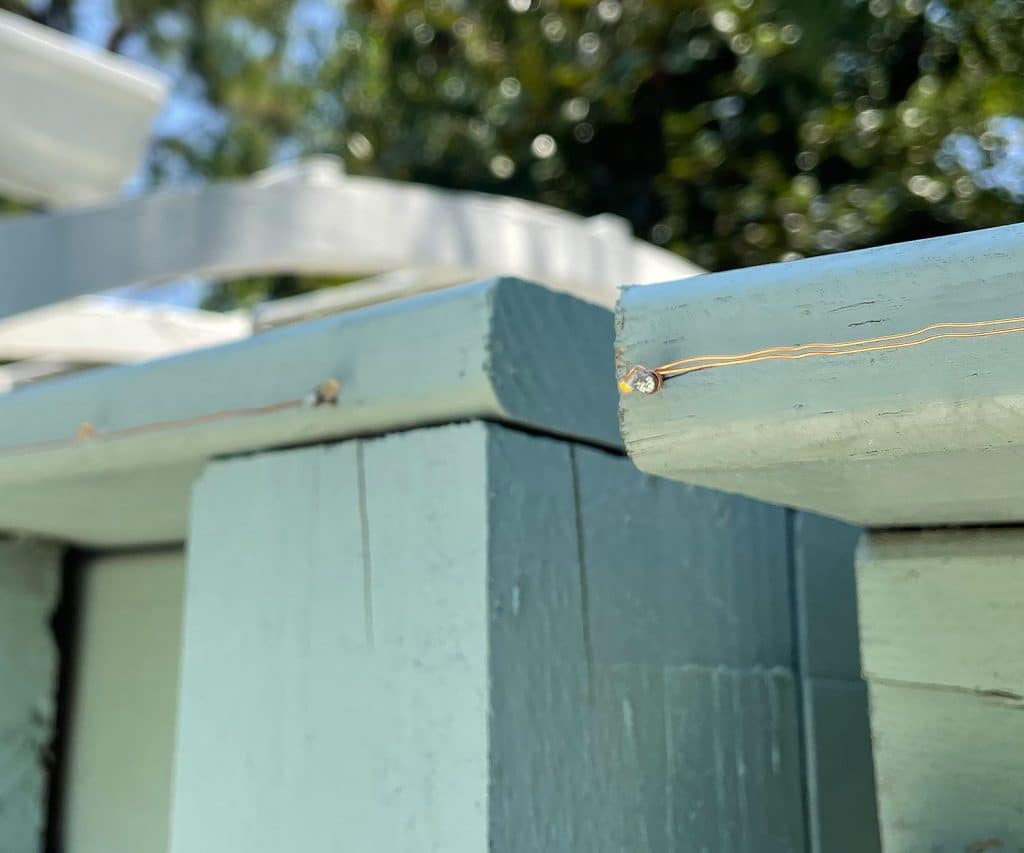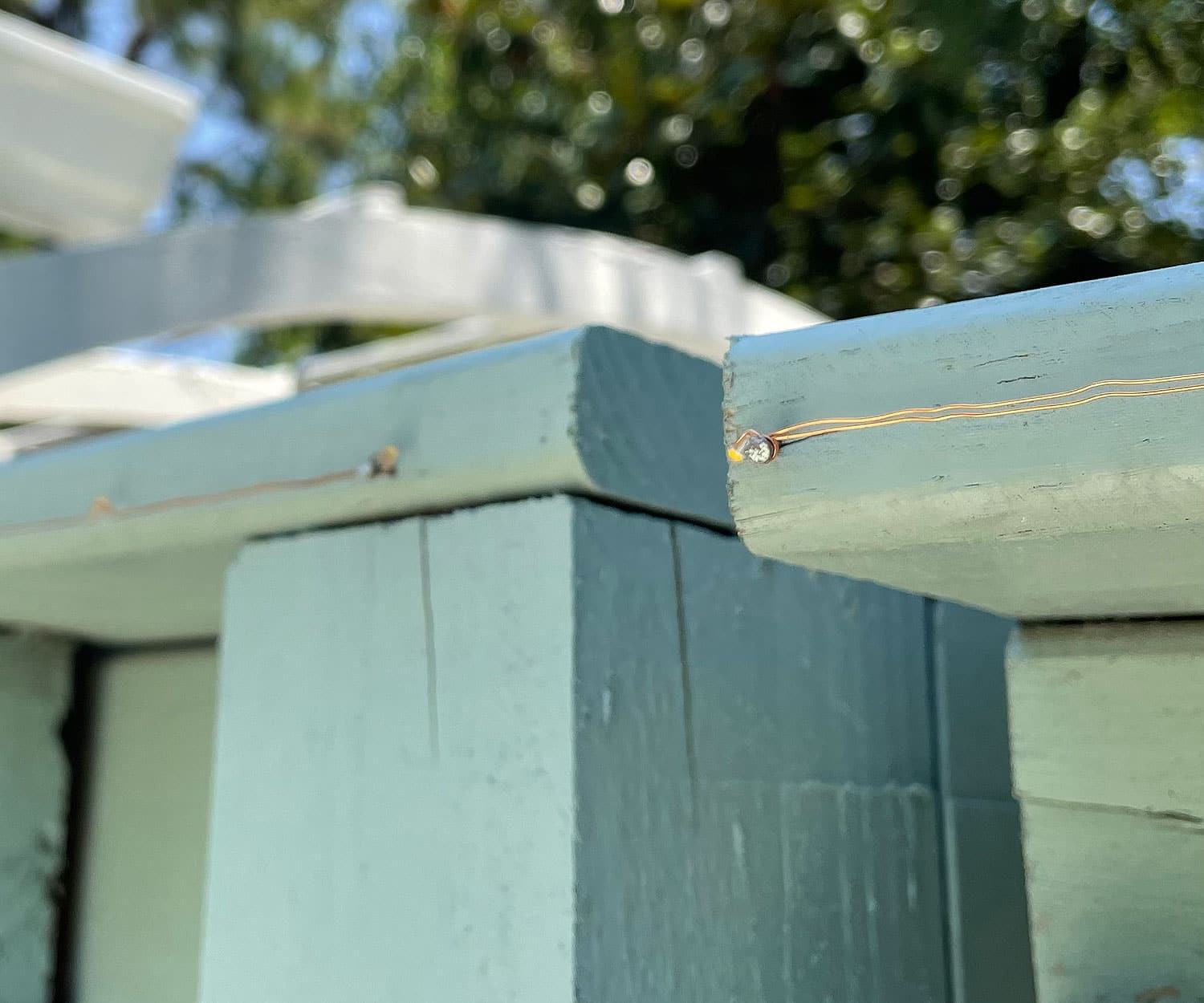 The solar panel on the other end of that strand that runs along the house just sits unceremoniously on the corner of our roof. You can't really see this one from the ground much either from most angles, thanks to some greenery that obscures that corner and the inherent over-your-head factor (I'm up on a ladder to get this shot too).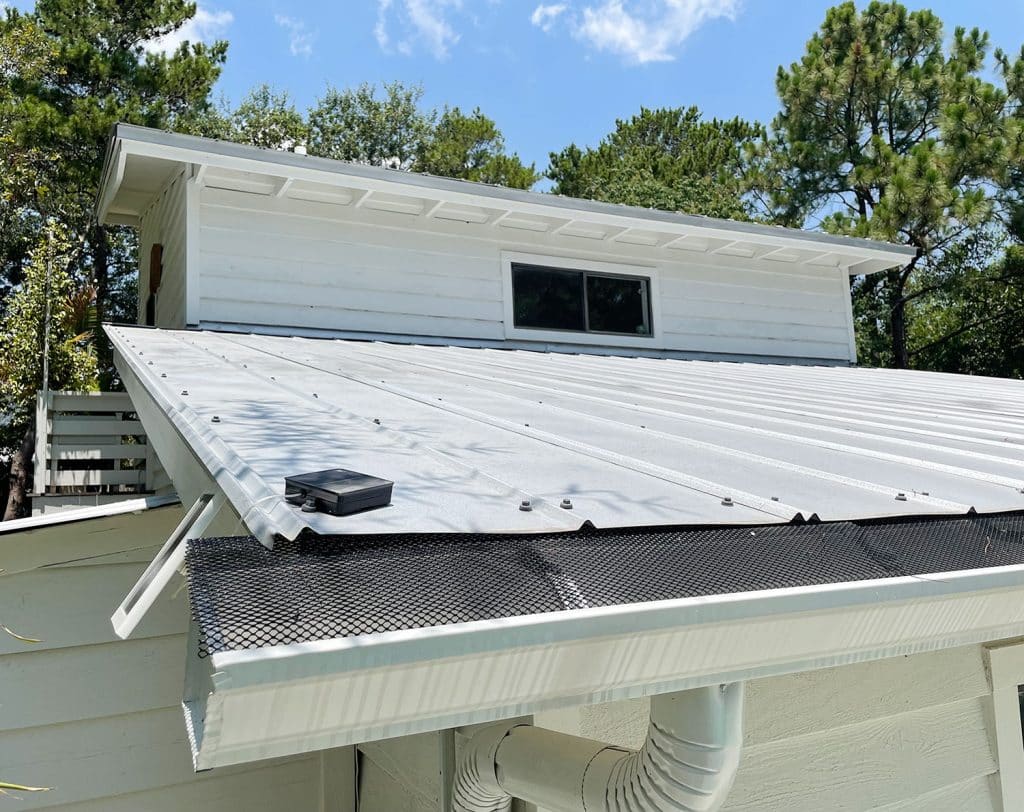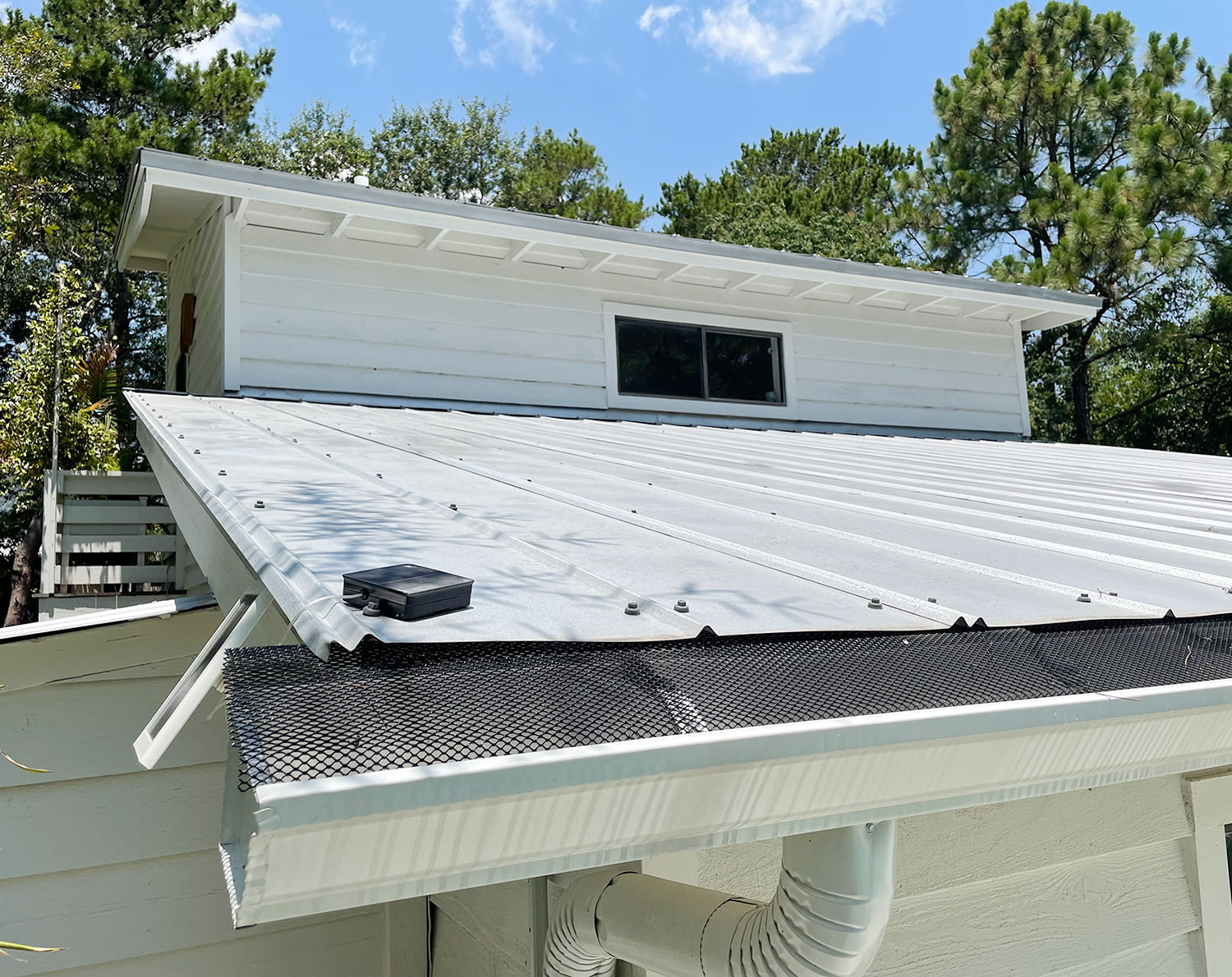 You can see what I mean about the greenery in that corner that obscures the view of the solar pad on the roof here (it's in that far left corner that you can't see):
The LEDs don't give off much heat, so a lot of people also use them more "organically" in bushes or other landscaping. They'd also be great for outdoor holiday decorations, like bunched up in a jack-o-lantern or as part of a Christmas display. Oh and if you're hosting a disco dance party they also have various lighting modes – like flashing, twinkling, or fading in and out. We just use the solid "on" setting.
From certain angles it's hard to see the ones under the house (thanks to the gutter) so it's sort of like an under-cabinet glow that washes down the side of the house – and we often catch them in the pool reflection, like in the photo above. Actually, the reflection of these lights are one of my favorite things about them! Speaking of which…
Solar Patio Umbrella Lights
After the success of the fairy lights, I sought out some other places to add them. That's when I came across these umbrella fairy lights specifically designed to go on the spokes of a patio umbrella.
Instead of a strand of lights that run in a straight line, these fairy lights are laid out almost like an octopus – with 8 shorter lengths of wire spidering off from a center ring. This makes it perfect for any umbrella with an 8-rib design, between 7ft – 10ft in length. We actually have this 11ft umbrella, so the lights don't technically go to the ends, but you can see when you scroll up or watch the video it still looks really charming.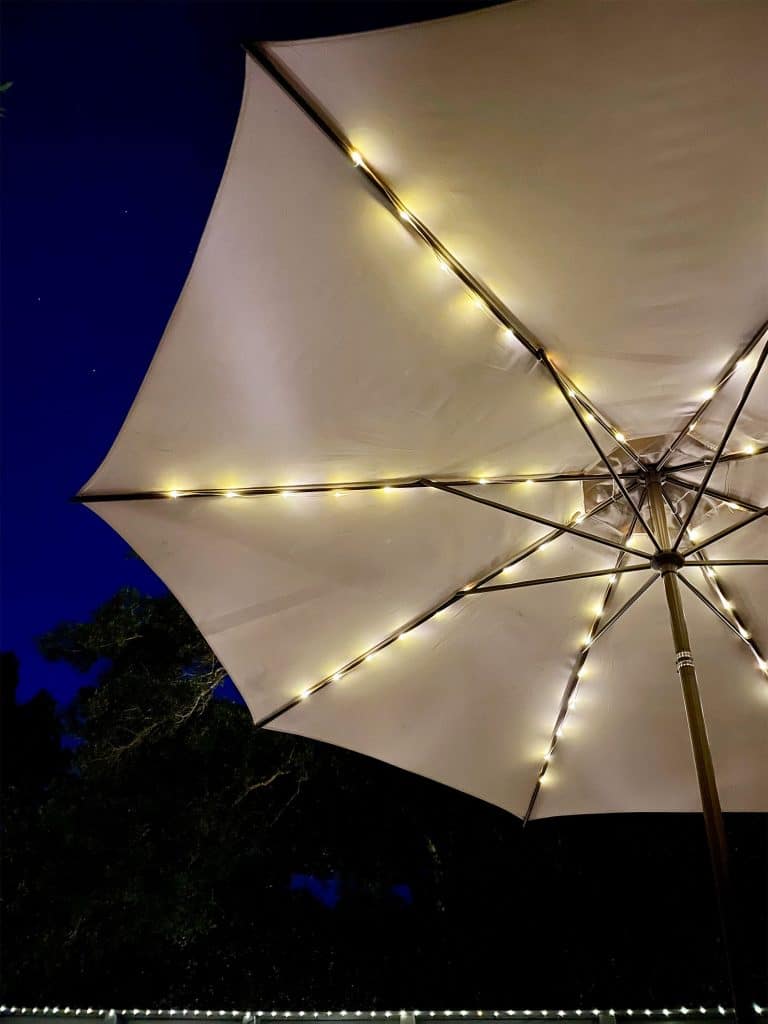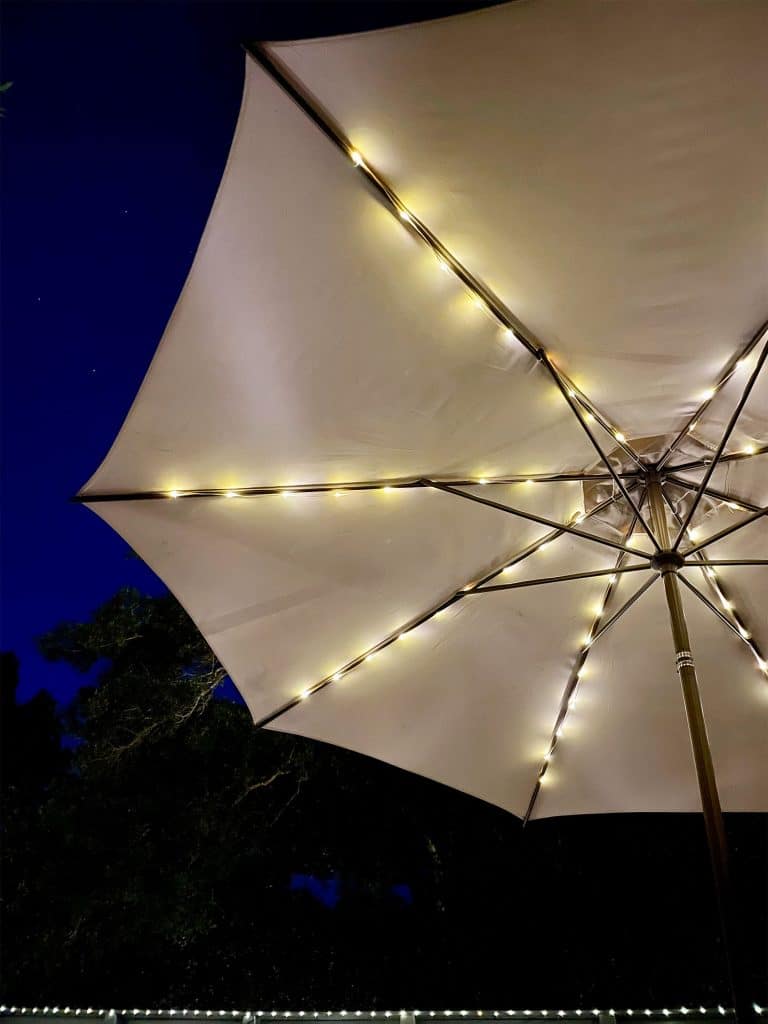 The kit comes with a bunch of small zip ties to hold the fairy lights in place on your umbrella. We also chose to wrap ours around the spokes too, because I found it required fewer zip ties (we just have one on each end) and holds the wires in place when we put the umbrella down and back up again.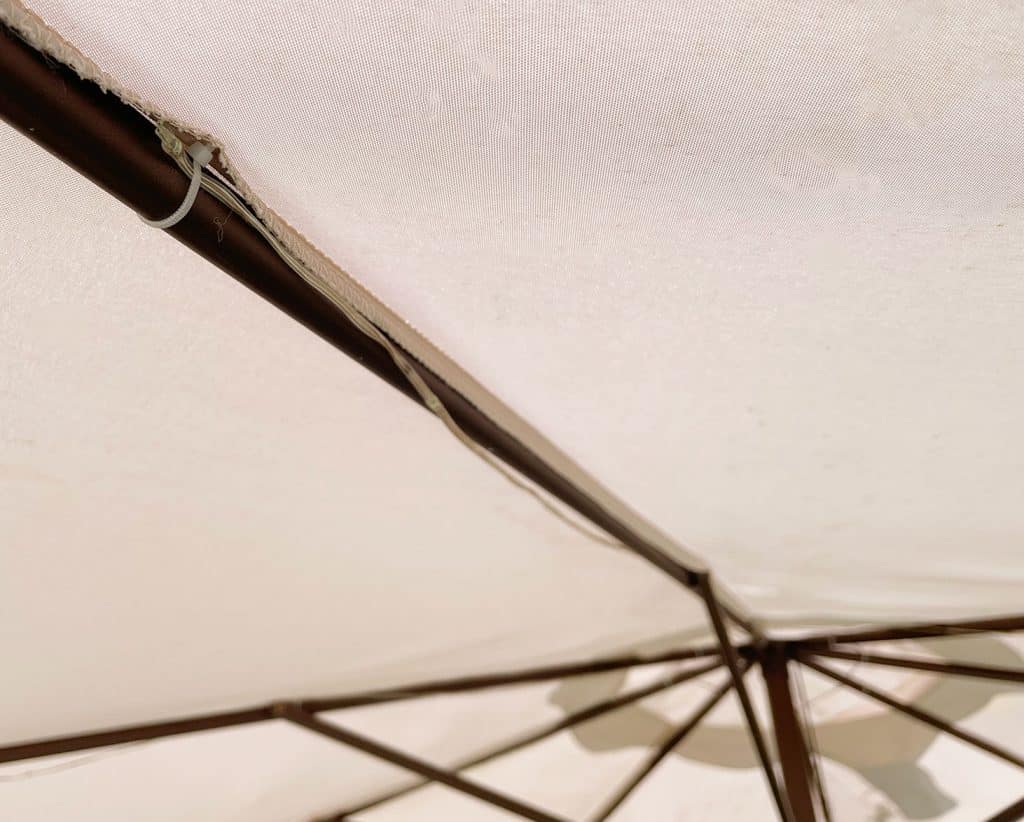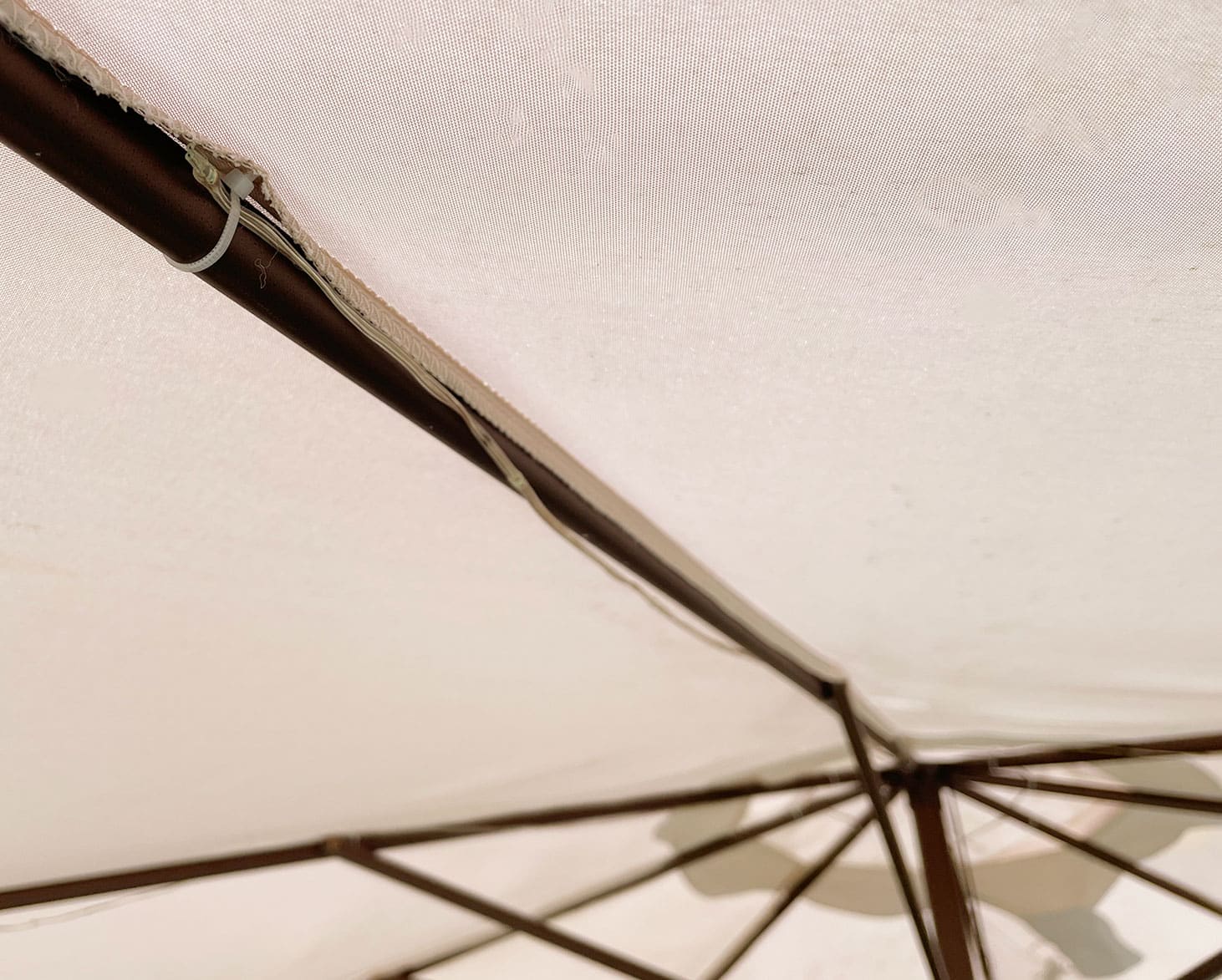 The listing shows the solar panel mounted on the outer edge of the umbrella, but that made the umbrella lean a little to one side. So we just clip ours near the top of our umbrella instead – to that loose fabric around the top vent. The panel is literally like a giant chip clip, so you've got a lot of options for where you want to put it.
It doesn't give off a giant amount of light (I wouldn't be able to read a book by it, for example), but that's not our goal here. We generally like enough light not to fall into the pool or hot tub and be able to see if we drop something but there isn't "evening reading time" under the fairy lights. They just layer more glow into the backyard and reflect beautifully in the water of the pool.
Overall, we have found this assortment of solar-powered outdoor lights to be the perfect mix for us. We take evening hot tub dips a few nights a week (hot tubs are the best at night!), and we love that these lights offer a zero-effort, electricity-free way to make the backyard look cozy and inviting.
Oh, and one more thing, because it's also solar. But it's in a totally different area of our house:
BONUS: Solar Motion-Activated Flood Light
I'm switching gears a bit, I couldn't tie up this post without mentionig the 4th type of solar light that we love: these motion-activated flood lights (a 2 pack is currently $30). They're not really going to add any ambiance, but boy are they surprisingly bright for being solar-powered!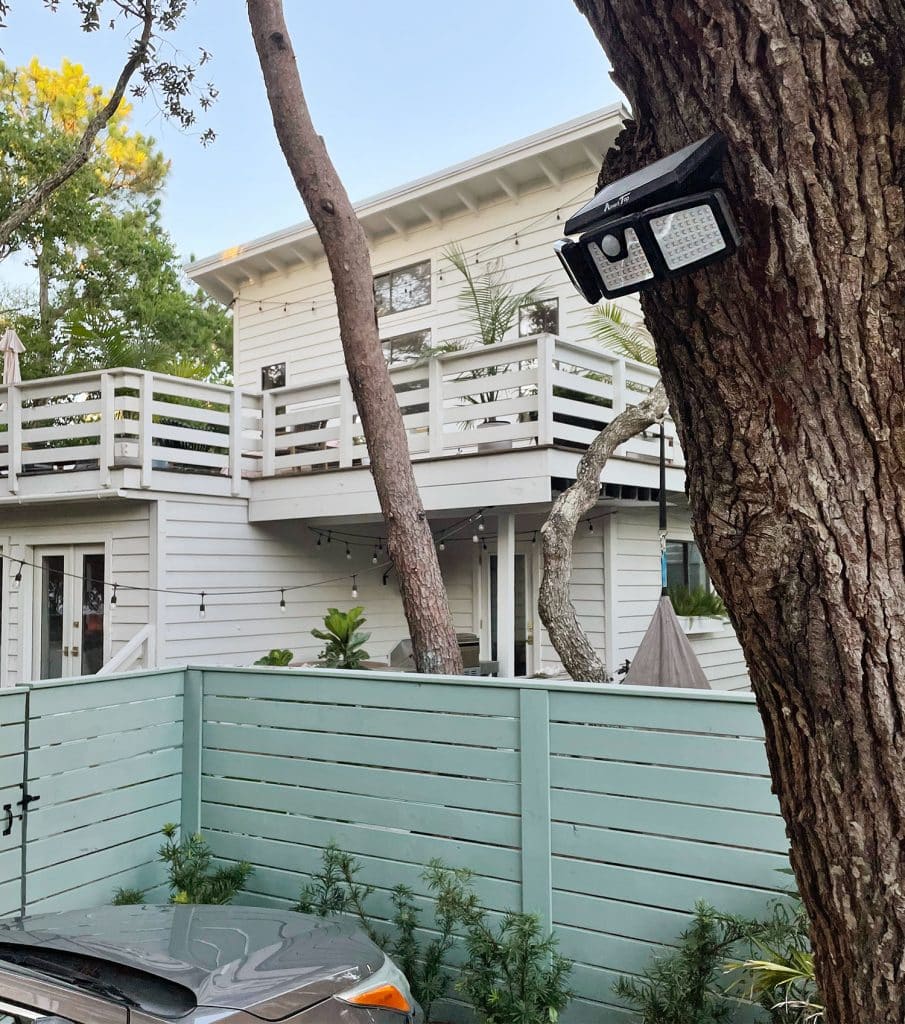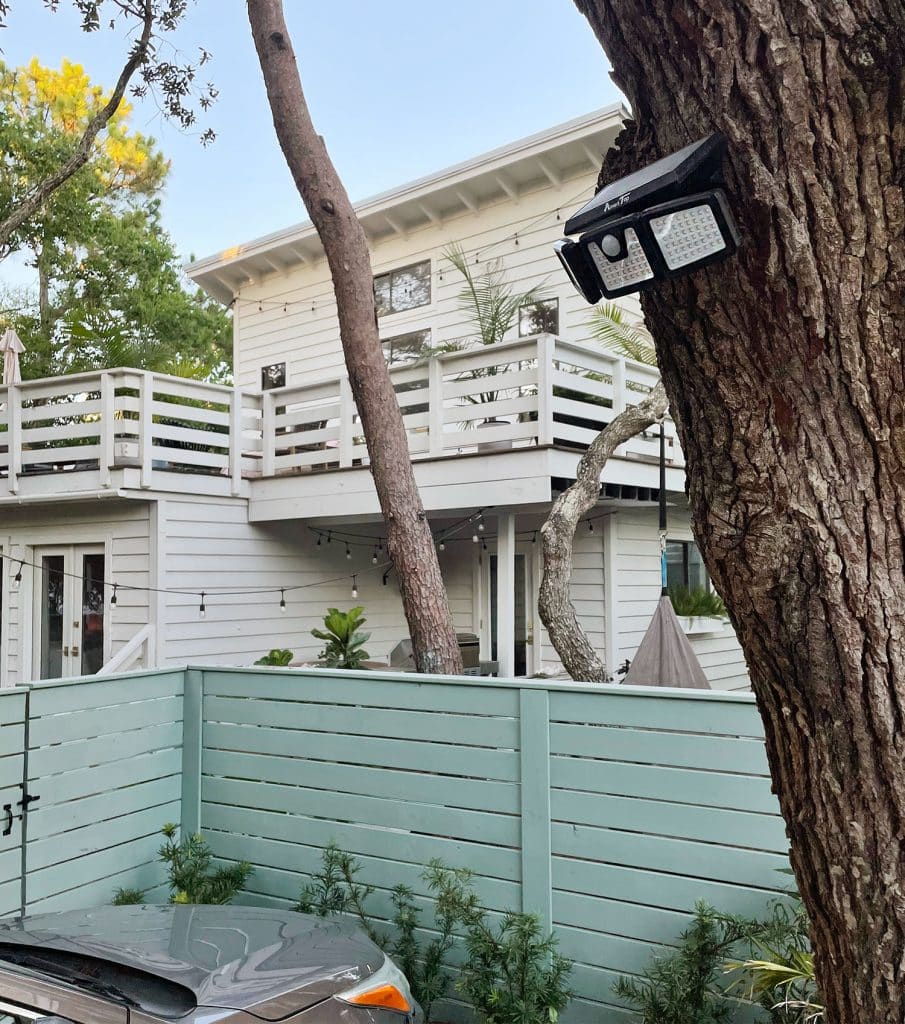 We put them in a couple of dark corners of our yard, including near our driveway to give us some extra light after dark if we're getting out of the car and we've been really impressed by them. We've got ours mounted on trees and, since every part of the device pivots, you can adjust it to make sure it's detecting motion where you want AND shining in the right direction. Again, they're surprisingly bright!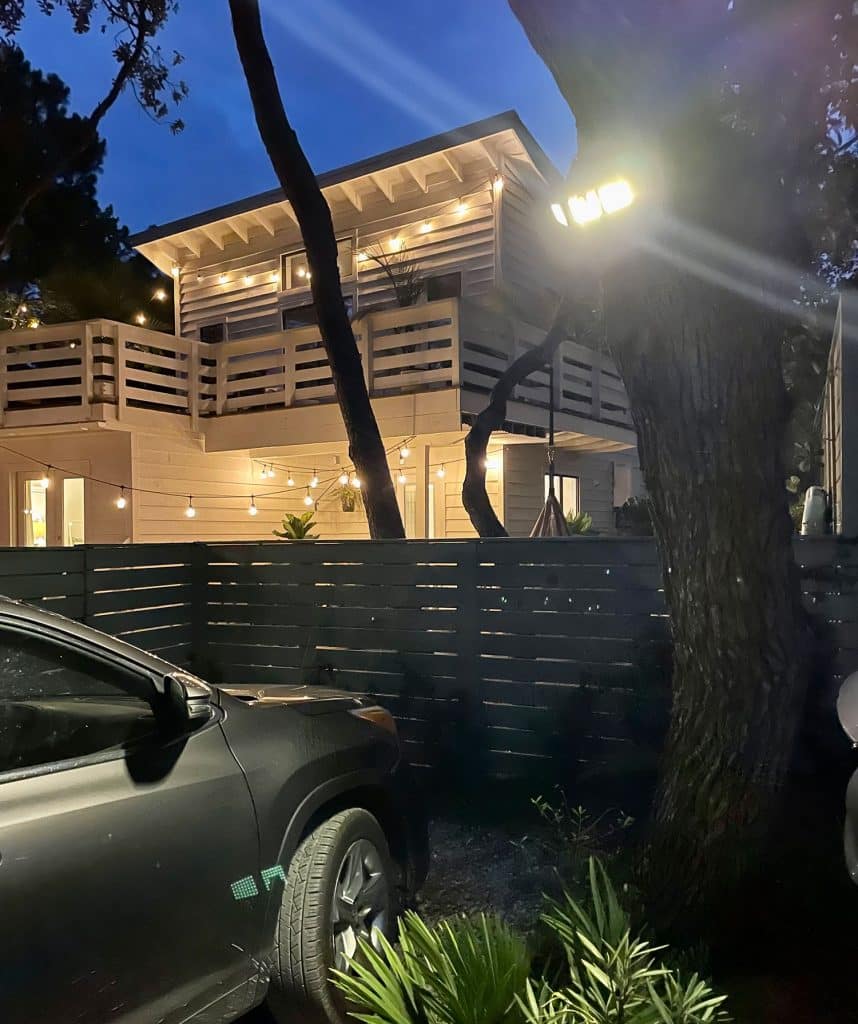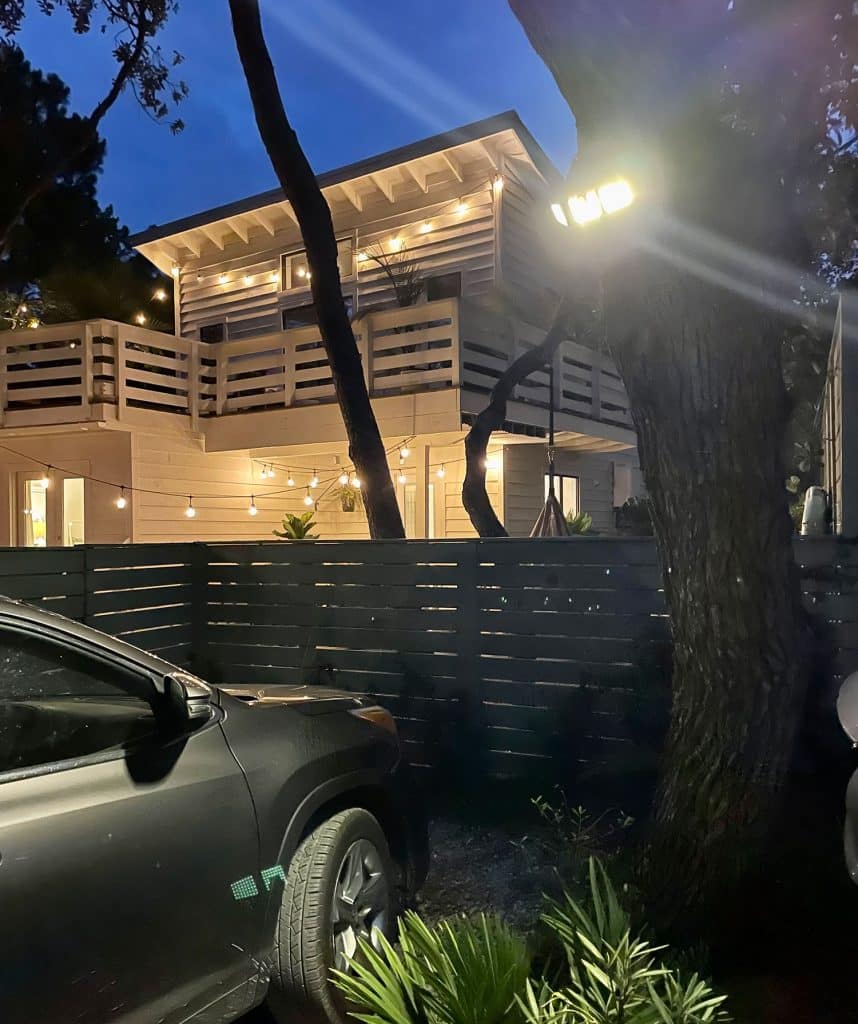 Just be sure to order these warm white ones we've been linking. They sell a cool white version and, well, you know my feelings about light bulbs that are too cool looking.
So we hope this post encourages you to give some solar-powered lights a try somewhere in your yard or patio. And if you're looking for some other outdoor updates you can do yourself, here are a few ideas:
Note: We get a lot of source questions, like "where did you get those lounge chairs by the pool?" or "what's the link to that porch lamp?" so we created a spot with all that info (and our paint colors!). This page has any and all sources for things that are outside or inside our home.
*This post contains affiliate links, so we may earn a small commission when you make a purchase through links on our site at no additional cost to you.
More posts from Young House Love